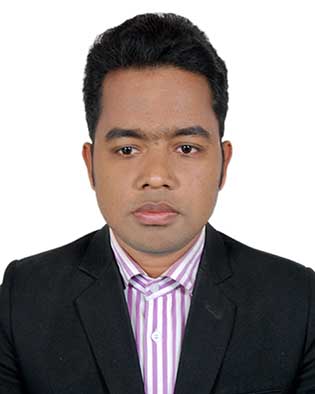 Md. Lokman Haider Chowdhury PhD
---
OBJECTIVE
Mr. Md. LokmanHaiderChowdhury is interested in the field of research and education, especially, issues related to social development, peace, conflict, religion, human rights and culture. In addition, he is involved with different social and cultural activities and study circles. Mr. Lokman is confident to conduct research on social development, policy issues. Mr. Lokman is particularly interested to work in the field of social development, education for peace and human rights, justice, critical thinking, history, philosophy, and new media.
EDUCATION
No
Degree
Subject
Result
Passing
year
01
Doctor of Philosophy (PhD)
Political
Science
Going on
02
Master of Philosophy (M.Phil)
Political
Science
Awarded
2019
03
Master of Social
Sciences(M.S.S)
Political
Science
3.06 out
of 4:00
2011
04
Bachelor of Social Sciences
(B.S.S)
Political
Science
3.21 out
of 4:00
2010
05
Higher Secondary Certificate
(H.S.C)
Humanities
3.80 out
of 5:00
2005
06
Secondary School Certificate
(S.S.C)
Vocational
4:09 out
of 5:00
2003
EXPERIENCE:
Research Associate from 10 th January 2020 at 'বঙ্গবন্ধুরশিক্ষা ও স্বনির্ভরতারভাবনা, তৎকালীন ও সমকালীনপ্রাসঙ্গিকতা',a research project, which is being conducted by KaziSameeu Sheesh, Senior Research Fellow, Center for Advanced Research in Arts and Social Sciences (CARASS), Dhaka University, Dhaka-1000
Data Analyst from 01 st January 2019 at the research project "Shifting of Marketing Paradigm of Tobacco Company in Bangladesh: Tobacco Control Policy ImplementationChallenges" in Department of Psychology, Jagannath University.
Research Associate from January 2017 to December 2018 at the research project "Socio-Economic Status of the Students of Dhaka University" in Center for Advanced Research in Arts and Social Sciences (CARASS), Dhaka University, Dhaka-1000
Trainer of SPSS and Basic Statistics from November 2019 at Skill Hunt, Level-7, Daffodil Family Tower, House 11 Rd No 14, Sukrabad, Dhaka, Bangladesh.
ATTACHMENT TO RESEARCH ORGANIZATION
General Member at Dhaka University Research Society (DURS), Dhaka University
General Member at Research and Innovation Society, TSC, Dhaka University, Dhaka
PUBLICATION
Policy Analysis Training Course of Bangladesh Institute of Governance and Management (BIGM): An Evaluation', published by BIGM in 'Compilation of Policy Papers', Volume: III (4), December 2018. P.1-30 Supervisor: Dr. MonzurHossain, Senior Research Fellow, Bangladesh Institute of Development Studies (BIDS), Agargaon, Dhaka-1207
Educational Condition of the Enclave People in Bangladesh' a conference notenhas been published in International Conference in culture, peace and education' held in the University of Rajshahi, Rajshahi,Bangladesh.
RESEARCH WORKS
'Socio-Economic Conditions of the Enclave People in Bangladesh: Problems and Prospects'- a research project for M.Philcourse
Policy Analysis Training Course of Bangladesh Institute of Governance and Management (BIGM): An Evaluation_ a policypaper
'Cultural and Co-Curriculum Activities of Dhaka University: Present and Past'- a researchproject
FELLLOWSHIP
Fellowship on 'Socio-Economic Conditions of the Enclave People in Bangladesh: Problems and Prospects' from Social Science Research Council (SSRC), Ministry of Planning, Bangladesh in May2017
TRAININGS
'Econometrics' held during 30 th November to 05 th December 2019 at Bureau of Business Research, University of Dhaka, Dhaka-1000
'Project Management' held during 15 th and 16 th November 2019 at Global Skill Hunt Agency, 2 nd floor, House no. 4/A/1, road no. 02, Gulshan-1,Dhaka
'Research Paradigms and Advanced Methodology in Arts and Social Sciences' held during 5 th May to 20 th May, 2019 at Center for Advanced Research in Arts and Social Sciences (CARASS) in DhakaUniversity
Ten (10) Weeks long 'Policy Analysis Training Course' held in 2018 at Bangladesh Institute of Governance and Management (BIGM), E-33, Agargaon, Sher-e-Bangla Nagar,Dhaka-1207
Training course on 'Social Science Research Techniques for Transportation Planning and Safety', held at Accident Research Institute (ARI), BUET during April and May2018
'Conversion of Light Engineering Industries of Bangladesh into Globalized Enterprises through Technology Breakthrough and Innovation Promotion' held in 2018 at Institute of Appropriate Technology (IAT), BUET, Dhaka, Bangladesh
'Development of Modern Technology Business Model Appropriate fornBangladesh' held in 2018 at Institute of Appropriate Technology (IAT), BUET, Dhaka,Bangladesh
'Foundation Training Course on Social Science Research' held at Center for Regional Development Studies (CRDS), BUET, Dhaka-1000 in June,2017
'28 th Advanced Training Course on Research Methodology and Use of Excel, SPSS, STATA' held at Bureau of Economic Research, Department of Economics, University of Dhaka, Bangladesh in May,2017
'Basic Training Course for the New Officials of National Academy for Planning and Development (NAPD)', Ministry of Planning, Dhaka-1205, Bangladesh held in2014
Research Methodology Training Course-2016 held at Centre for Advanced Research in Arts (CARA), DhakaUniversity
Six-month computer training course on MS office and Internet browsing held at Moon Commercial Institute, Taltola, sher-e-Bangla Nagar,Dhaka-1207
PARTICIPATING INTERNATIONAL CONFERENCE
Partition Politics: Impacts on Society, Economy, Culture and Indo-Bangla Relations (1947-2018) during 11 th to 13 th August2018
'4 th South Asian Economic Network Conference 2019 by SANEM and World Bank' held during 8 th and 9 th September 2019 at BRAC Centre INN, Mohakhali, Dhaka;
COMPUTER SKILL
MS Office (MS Word, Excel, Power Point) and internet webbrowsing
SPSS,STATA
LANGUAGE SKILL
| | | |
| --- | --- | --- |
| 1 | Bangla | Native speaker |
| 2 | English | Excellent |
| 3 | Chittagonian/Rohingyan | Native speaker |