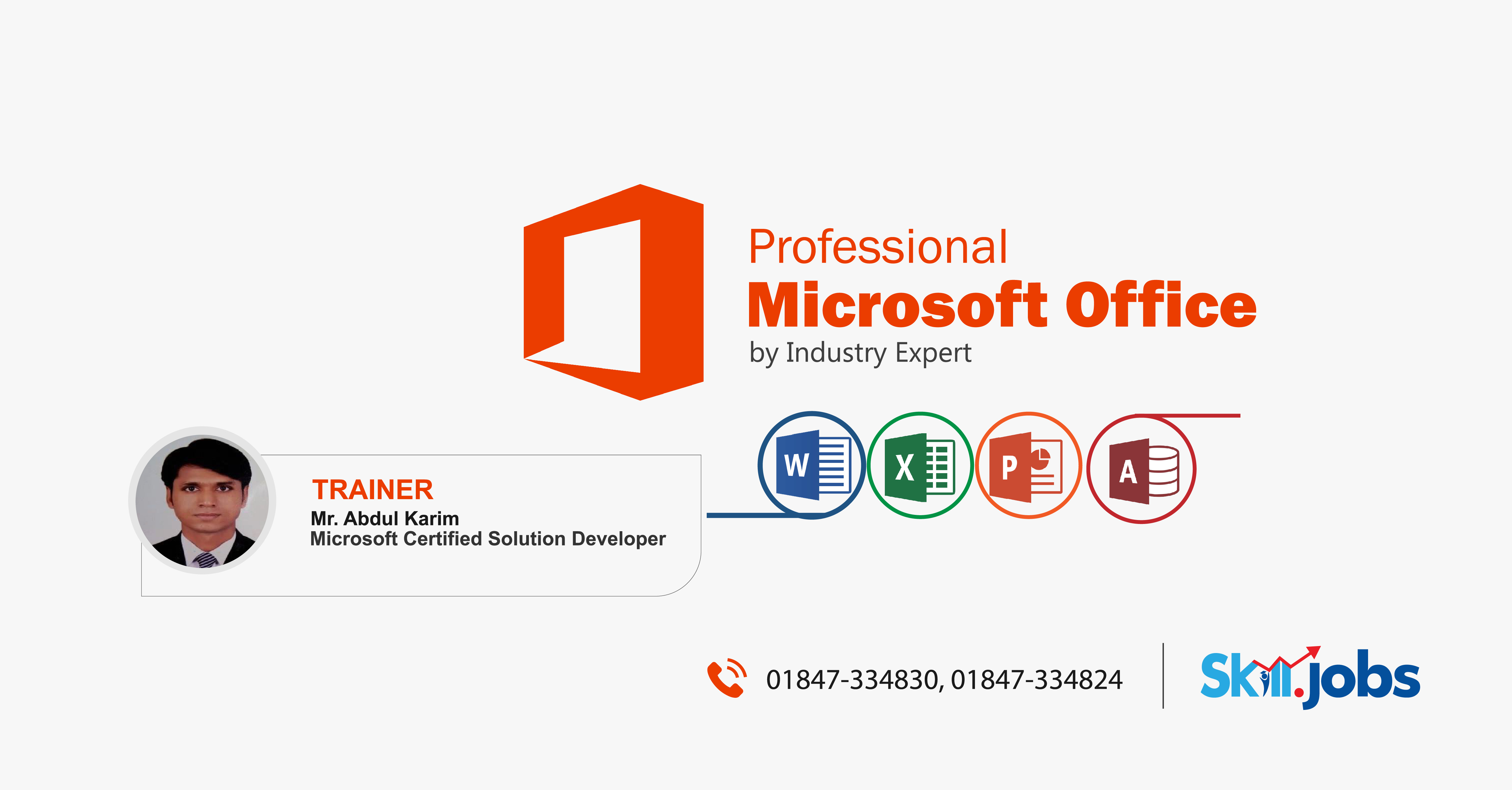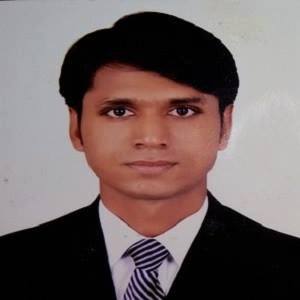 Mr. Abdul Karim Sumon
View Profile
Professional Microsoft Office
TK 12000
Start Date : 2019-10-01 &nbsp
End Date : 2020-01-01
Total Class : 20 Total Hours: 50
Location : DF Tower- Level-11 H # 11 (Level-11A), R # 14, Dhanmondi, Shobhanbag, Dhaka-1209
Registration Now
Welcome to learn the Professional Microsoft Office from the most experienced and skilled industry expert. Skill Jobs is arranging a professional course on Microsoft Office program for mobilizing your capacity more rightful and efficient. Through this training program, you can systematically resolve all the problems/ necessities related to MS Word, MS Excel, MS PowerPoint, MS Access, Google Docs & Google Sheets.

Skill Jobs offers you the professional course on "Microsoft Office" for your career excellence.
Course Content
Professional Microsoft Word

Lesson 1: Introduction to Word
Lesson 2: Editing a Document
Lesson 3: Formatting Text and Paragraphs
Lesson 4: Adding Tables
Lesson 5: Managing Lists
Lesson 6: Inserting Graphics Objects
Lesson 7: Controlling Page Appearance
Lesson 8: Proofing a Document
Lesson 9: Customizing the Word Environment
Lesson 10: Working with Tables and Charts
Lesson 11: Customizing Formats
Lesson 12: Using Images in a Document
Lesson 13: Creating Custom Graphic Elements
Lesson 14: Using Templates
Lesson 15: Using Mail Merge
Lesson 16: Table of Content

Basic Microsoft Excel

Lesson 1: Art in Excel
Lesson 2: Basic Chart
Lesson 3: Formatting Data
Lesson 4: Orientation with Excel
Lesson 5: Printing Document
Lesson 6: Advanced Charts
Lesson 7: Advanced Functions
Lesson 8: Advanced Tools
Lesson 9: Big Data Management
Lesson 10: Data Review, Import Data to Excel, Formatting Data
Lesson 11: Financial Functions, Analysis Tools, Automation by Excel
Lesson 12: PivotTable, Text Functions
Lesson 13: Data Lookup
Lesson 14: Tips, Shortcuts, Practical Project Practice, Test

Basic Microsoft PowerPoint

Lesson 1: Getting started with PowerPoint
Lesson 2: Graphs
Lesson 3: Importing and Exporting
Lesson 4: Working with Objects
Lesson 5: Multimedia Automation
Lesson 6: Transitions and Animation
Lesson 8: Setting Up a Slide Show

Basic Microsoft Access

Lesson 1: Getting Started with Access
Lesson 2: Working with Table Data
Lesson 3: Creating a Relationship
Lesson 4: Querying a Database
Lesson 5: Generating Reports


Certificate: Awarded by Skill Jobs & Human Resource Development Institute
About Skill Jobs Training
Established in 2000, Skill Jobs is a growing technology-enabled service provider engaged in delivering services in two different fields of employment solution and skill development programs. Our human resources are highly skilled professionals, engineers, technologists, domain experts, associates who are diversely talented in multiple domain specialties located globally, who have successfully undertaken numerous projects in the various domain the field of engineering and software technologies.